A Guest Post by Joan Koerber-Walker, Founder of CorePurpose, Inc.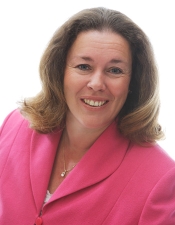 When my friends at Office Divvy offered me the opportunity to share ideas here on the Business Life Stories Blog, I thought "How great!" When I actually sat down to write it, I learned that sharing why you do what you do is not as easy as it sounds.
You see, I get to do a lot of different things across a wide spectrum of activities. The more involved and engaged I am, the happier I am. And since I like to be happy – I have many projects all running at once. You can see some on the things I am or have been involved in on my Google and LinkedIn Profiles.
At that root of it all, the best way I can describe myself is as an innovator. Everything I do is tied to my own personal definition of innovation which is:
Innovation is doing something in a new way to make life better for the PEOPLE who matter." – Joan Koerber-Walker
At Home, the people who matter to me are my family. Making life better means listening to them, being interested and involved in what is important to them, and trying to make our lives better by encouraging and supporting them in realizing their goals and dreams. Making their life better, makes my life better.
At Work, whether it is at CorePurpose, the company I founded in 2002, at RiboMed Biotechnologies where I serve as Treasurer and on the Board of Directors, or at Callaman Ventures, where I serve as an Executive in Residence, my driving need to innovate helps me to look at both challenges and opportunities in a new way to find solutions that enable growth, create return on investment, and make life better for the people who matter in the business world – our employees, our partners, our customers, and our investors.
Some days you'll find me at the computer, tweeting or writing articles and blog posts that share ideas on how we can make our business or personal lives better. Other days, I climb in my car or board a plane and travel to a different place. It may be to meet privately with the executive team of a client or partner to explore solutions to the challenges and opportunities facing their company or it may be to take to the stage and share ideas with a larger audience. But either way, I get to apply what I have learned along the journey – what worked and what didn't – to new solutions that create new opportunities.
All Smiles – making a difference makes me smile – Celebrating with the OTEF team at the close of a successful AZEC09. (Left to Right: Merlin Ward, Joan Koerber-Walker, Francine Hardaway, Steven Groves. (Photo by Mark Goldstein)
In My Community, I love to do what I do. That means rolling up my sleeves and getting involved as a volunteer on many different projects. It might be working on solutions for small business health care, garnering support for OTEF's work in helping at-risk populations find economic self-sufficiency through entrepreneurship, spreading the word as an Ambassador for SCORE® on how small businesses can access expert resources that help them grow their businesses, or simply meeting with local business owners to exchange ideas or share contacts while I sip my Diet Coke. (I never did acquire a taste for coffee.)
All of these activities let me put my inner innovator to work PLUS the added benefit of getting to meet and work with really great people. Who wouldn't want to do that!
So – Why Do I Do What I Do? Probably the simplest answer is "Because I can – and I love to do it." But in whatever I do – be it at home, at work, or in my community – I hope I make life a little bit better than it was before. After all – that's what innovation is all about.
Thanks to Ky, Lisa and all of the Office Divvy Team for challenging me to answer the question – Why do you do what you do? – and for allowing me to share my musings with you.
Joan Koerber-Walker
Joan's Blog is a recommended/featured blog by Business Life Stories.