a guest blog post by Connie Rice, Daytona Food Examiner
I have held one job or another since I turned fifteen and got my eager hands on a work permit. Since then every position I have had, every boss I have worked for, every task I have undertaken, every company I have represented – ultimately they have helped me grow and led me to where I am today. In true 21st century fashion, I am a netizen wearing many hats on any given day.
I am the internet marketing arm of an established web design firm (www.creativepages.net) as well as a writer of fiction, visual artist, mother, and my most recent venture: writing for Examiner.com as the designated Daytona Food Examiner. My position as Daytona Food Examiner is a new adventure in creativity and marketing that I have found to be extremely interesting and rewarding.
Why do I love writing for Examiner.com? I post articles according to my topic while incorporating a local slant. We are paid according to page views, based on a formula which takes into account subscriptions and session length. It is an outlet for some of my established pleasures (writing, cooking) as well as a way to educate myself in my current career (social media, search engine optimization).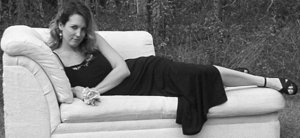 On top of this I am able to incorporate my latest artistic pursuit: macro photography. My previous affinity for painting has given way to a fascination with taking pictures of objects as close up and magnified as possible – and what other subject matter has the intricacy and mystery of food. I believe that the unification of so many of my skills, interests, and strengths into one job is why I like Examiner.com.
Other reasons I enjoy working as an Examiner: as a writer for the Food and Drink Channel, I am given very little restrictions and no micromanagement. This is heaven for an indepedent self-starter. That being said, if help is needed it is not difficult to obtain. There is a sense of community with the other writers and I have made at least one friend that I think will be with me for the long term.
As a whole I feel I am part of a fresh, dynamic, evolving segment of the Internet that promises to teach me more and take me into who knows what direction in the future. It is reminiscient of having been swept up into the wild days of the dot com boom. I like the feeling of embracing the unknown and of being part of what's next.
I would like thank the Office Divvy Team for being so gracious as to let me pen a guest post for Business Life Stories. I would also like to thank them for tweeting one of my favorite articles, Top 10 Reasons Why Bacon is the New Black, on their phenomenally successful Twitter feed.
Connie Rice can be found on Twitter as @DaytonaFood
Q4M5VN4N4UGK