I am a transformation expert and a thought innovator. I love what I do because, on any given day or year, I witness miracles. My work is always interesting, fulfilling, thought provoking, engaging, satisfying and at times awe inspiring. But in miracle moments I see clearly the profound value of what I do.
I am a licensed Psychotherapist and Holistic Life Style Coach in NYC. I came to this profession about 15 years ago after a very successful decade as a talent agent in NY and LA. I was at the top of my game running agencies and negotiating TV and endorsement deals for the Super Models of the world. The more successful I became the less I liked what I was doing. I cared more about getting models into rehab and therapy than I did if they booked a film or the Pantene Campaign. This inspired me to get my Master's at NYU and open a therapy practice with Broadway and Film actors as the main population I was uniquely skilled to help.
I have had a booming practice for almost 15 years, with 2 offices in NYC and a tremendous Skype practice that reaches all over the States, Europe, Australia, Mexico and beyond. Currently, I am transitioning out of my private practice and focusing on my company, Live Fearless and Free. I am finishing my first solo book, Flip Over and Float-Your 8 Steps to Sustainable Change, traveling the country and internationally with motivational talks and seminars, empowering people of all walks and social status to live their best lives now. The book is an instructional guide of HOW TO actually create sustainable change in all areas of life. It is based on what I learned during my fifteen-year fact gathering adventure as a licensed psychotherapist. I know what works because it worked over and over again. Conversely many interventions I was SURE would inspire change, did not.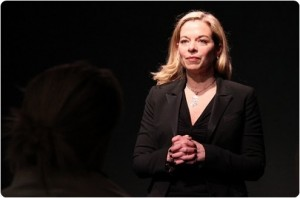 I am so excited that my dream of Transformational Television is becoming a reality (only took fifteen years! Whoo hooo!) I am one of the Transformation/Empowerment experts being featured on a new show for Lifetime called The Conversation. The show features famous women (Jane Fonda, Donna Karan and many others) sharing their real life struggles and experts laying out resources and actions that non- famous women can take to find solutions NOW.
I love what I do because being a catalyst for people transforming their lives is absolutely thrilling.
Holding space and witnessing clients becoming happier, more illuminated, authentic, lit up and fully self-expressed is so amazing, I would do it for FREE, and have for years.
Anyone can change his or her lot in life. It does not matter what hand you were dealt. It starts with being brave enough to believe you can have what you want. There are a zillion limiting beliefs we are taught in this life that get in the way of having happy, fulfilled, fully self-expressed, well lived lives…and each one can be unlearned. And that is an amazing fact.
I got into the business of teaching clients what they need to do on a daily basis to create and maintain a life that lights them up. Now I am taking I to the world stage.
Look Out World!

"When you feel like you are swimming up stream just Flip Over and Float!"
Terri Cole is a licensed psychotherapist and life coach, published author and a motivational speaker.
Over the past 13 years, she has helped thousands of clients to Live Fearless and Free.
Terri continues to inspire and educate through coaching programs, live events and blog with her
wicked "tell it like it is" sense of humor, deep empathy and understanding, and razor sharp insight.
Website: www.TerriCole.com